Selz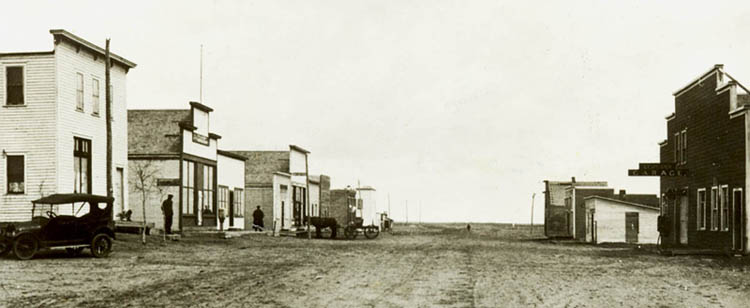 History of Selz Taken from the Selz Centennial website, www.selz100.com
In 1910 the first building on the present site of Selz was a store owned by Rochus Sanders. The store was destroyed by fire before the Great Northern Railway could be completed through the village.
The village was originally named Dallas by people from Dallas, Texas, who came to homestead. Postal authorities objected to the name. Rochus Sanders, the first postmaster, was appointed Oct. 25, 1910 and is believed to have selected the name "Selz" being many of the pioneers came from the German-Russian settlement of Selz, Russia.
The first bank was built by A.J. Goosen in 1911 and was called the First State Bank of Dallas and later changed to the State Bank of Selz. The bank went bankrupt in the 1930's. Many of the people lost their savings and accounts.
Selz was a thriving village in the early days and had three elevators, bank, grocery store, lumberyard, livery barn, blacksmith shop, dray service, butcher shop, cream station, bowling alley, bars, dance hall and depot. The Selz Special School replaced the three rural schools.
The G.N. Railroad was completed through Selz in 1912. Many local men worked on the section crews through the years.
St. Anthony Catholic Church is a continuation of the rural Odessa and Strassburg churches. St. Anthony was organized in 1916. Anton Weigel, Sr. donated five acres of land on which the church was built and was accorded the honor of having the church named St. Anthony. The building was destroyed by fire Jan. 6, 1959 but was replaced by a brick structure. Bricks from the old bank building were used to construct a fence around the cemetery.
More information about the history of Selz would be appreciated. If you'd like to submit a story or some information about the community, businesses or school, please send an e-mail to
heraldpressonline@yahoo.com