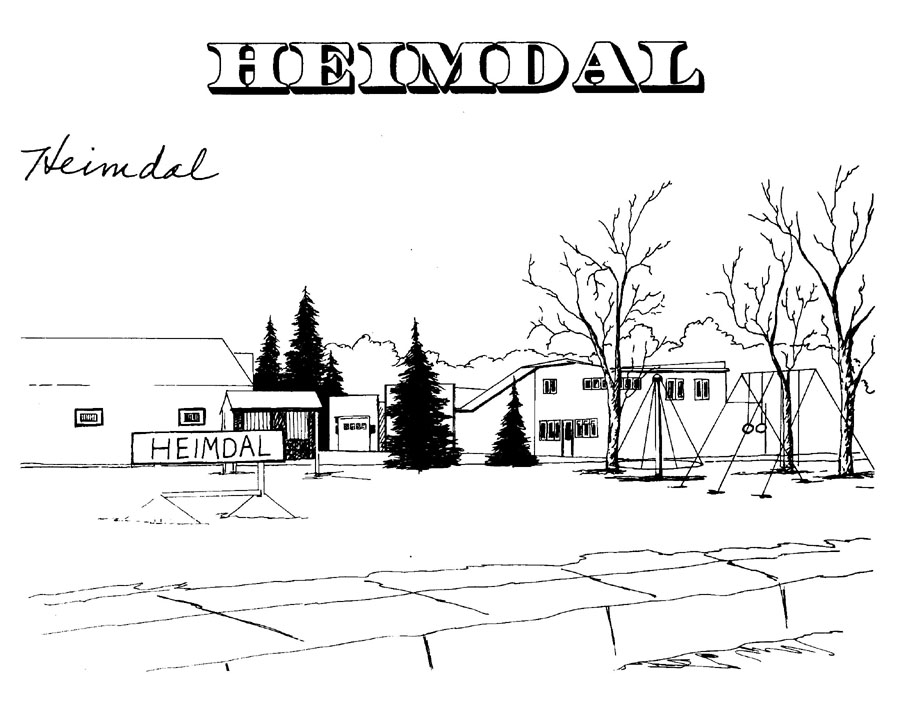 ---
A Bit of History
The first store in Heimdal was established by O.H. Backen, who also became Postmaster when the Post Office was opened there Sept. 22, 1910. Heimdal boomed earlier than Hamberg because of the activity at the G.N. Gravel pit nearby and the building of the long trestle bridge across the Sheyenne. (by E.S. Killie, as printed in the May 27, 1976 edition of the Wells County Free Press)
---
One of several stories written about Heimdal in, "Wells County 1884-1984 A Centennial Souvenir."
Heimdal Memories
By Laura Abrahamson Olstad

Laura [Abrahamson] Olstad was born in Wisconsin June 22, 1903 and moved with her family to a farm one mile west of Heimdal in 1905. In 1910 the Great Northern Railroad was built across her father's land.
The children enjoyed sitting on a hill close by and watching the workmen laying the railroad. Many horses and much manpower were used for this.
Laura attended school in the first schoolhouse built in Heimdal, soon the enrollment grew so large that two teachers were hired and a curtain divided the building into two rooms. Later a four room school was built.
Laura's father, William Abrhamson, owned a steam thresher rig and a cook car. He would thresh for many neighbors in the fall. Laura and a girl friend would cook for 18 to 20 men which included 3 full meals a day and lunches in the middle of the forenoon and afternoon. These were all brought out to the field.
The cook car was moved from farm to farm as the threshing progressed. The work began at 4:00 a.m. The cooking was done on an old coal range. Sixteen loaves of bread were baked each day. There ws a lot of work but also a lot of fun involved.
---
More information about the history of, or current events in Heimdal would be appreciated. If you'd like to submit a story or some information about the community, businesses or school, please send an e-mail to heraldpressonline@yahoo.com